Editor-in-chief
Tomasz Drewa
Nicolaus Copernicus Hospital
Department of Urology
Batory 17-19 str.,
87-100 Torun, POLAND
phone: +48 56 610 02 55
e-mail: katurol@cm.umk.pl
Deputy editor-in-chief
Bartosz Dybowski
Roefler Memorial Hospital
Department of Urology
1, Warsztatowa Str.
05-800 Pruszków, Poland
phone: +48 22 770 94 24
e-mail: bardyb@poczta.onet.pl
Publisher's & editor's office
Polish Urological Association
19, Łowicka Street
02-574 Warsaw, Poland
phone: +48 22 845 69 17
e-mail: augustyn@ptu.net.pl
Attention!
A new system has been introduced for submitting new articles starting from 11 July.
In cases of articles submitted to the previous system and requiring further corrections after review, the corrected versions should be sent to augustyn@ptu.net.pl.
We apologize for the inconvenience.
Dear Colleagues!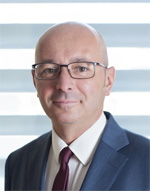 During the 48th Annual Scientific Congress of the Polish Urological Association (PUA), a general meeting of the PUA members was held and the Executive Board was appointed for a further, this time 4-year long cadency for 2018-2022.
The Editor-in-Chief of the Central European Journal of Urology (CEJU) is a role closely tied to and appointed by the PUA Executive Board. The Board has maintained their decision to appoint me as the Editor-in-Chief of CEJU.
I will do my best to fulfill my duties to the best of my abilities as long as the Executive Board of our association will allow me.
Finally, I hope that I can continue to count on the goodwill and support of everyone concerned with the prosperity and development of our journal.
With friendly greetings,
Tomasz Drewa
Publisher and funding institution
Polish Urological Association