End of Year Letter from the Editor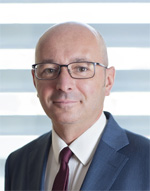 Dear Colleagues,
It is my great pleasure to inform you that our own customized editorial panel has been activated!
It took several months to create the new panel and it took much longer to make its final improvements and perform usage tests. When deciding about the creation of the new panel, I was aware that a current scientific journal must use modern solutions. It must be impossible to imagine for our younger colleagues how a scientific journal could have been published without the internet, when communication took place via traditional mail, faxes and telexes and articles were written using typewriters.
On the other hand, these past communication methods were much more personalized. Today, a machine generates most editorial correspondence. Fortunately, much of our correspondence, such as that concerning the review or authorization of an article, takes place between people. I myself, very much appreciate the opportunity for personal contact.
The Central European Journal of Urology is published in two versions: the traditional paper version and in electronic format. Our new editorial panel prepares us well for the inevitable time when CEJU will be published only in the second version - in line with the global trend and according to the current economic and ecological demands. Although, I have to admit that I am partial to the traditional paper edition of CEJU as a more noble way of transferring knowledge and experience.
All of these changes and, above all, the end of the year and the coming holidays, have made me feel reflective. Therefore, when writing this Editor's Letter, I have allowed myself to take on a more personal tone.
I would like to wish you, dear colleagues, a very Merry Christmas and a Happy New Year filled with many personal and fruitful meetings. May you make the best choices as often as possible; the best for you, for your families, and for your scientific and medical work.
Tomasz Drewa
Editor-in-Chief,
Central European Journal of Urology
Vice-president of the Polish Urological Association